Glow in the dark pigment - 12 colors kit
It's a kind of light energy storage powder which can glow in the dark after absorbing different visible light under 450 nm and can be reused for many times.
MOQ: 1kg per color
MOQ of 12 colors kit : 100 sets
Description
Glow in the dark powder also called luminous pigment, ORCHEER's 12 colors glow powder include: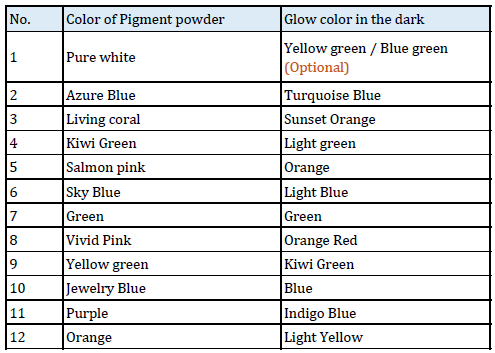 It's a kind of light energy storage powder, made by alkaline earth aluminate or alkaline earth silicates, which can glow in the light 6-15 hours after absorbing different visible light 3-15minutes, and can be reused for more than 10 years.
Non-radioactive, non-toxic, can be mixed as additive with transparent or semitransparent media.

Application:
Plastic injection products, silicon rubber products, printing ink, paint, ceramics, glassware, yarn, emergency lighting, indication marks, decorations, military facilities, fire emergency systems…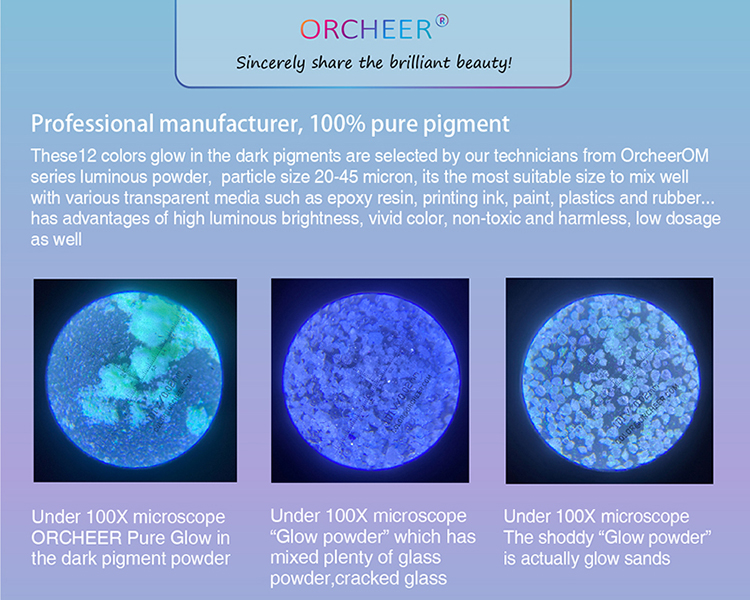 Please kindly email to color@orcheer.com to get detailed information!